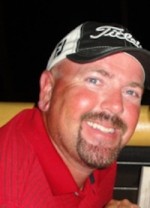 From: Trey Patrick
Monday 08:39am
Dear Friend and Business Owner,
You know what gets me excited? Watching the eyes of the local business owner who sees his website sitting at the top of the search engines for the first time ever…
Listening to the stories of the extra phone calls… the increase in orders… Yet, if you talked to him alone, and he opened up to you, you'd hear him share how… not too long ago, he almost had to close the doors…
As I walk out of the front door of his business, it never fails… I get a smile on my face… it all feels worthwhile…
Hey, I'm Trey Patrick, founder of Georgia Local Marketing Expert™ and author of
"How To Get Your Local Business Ranked On Page 1 of Google In 7 Days or Less!"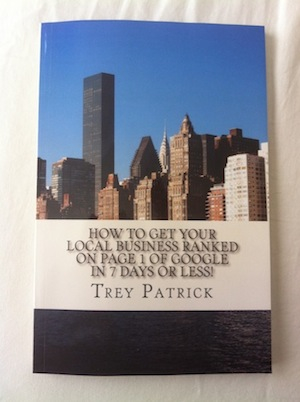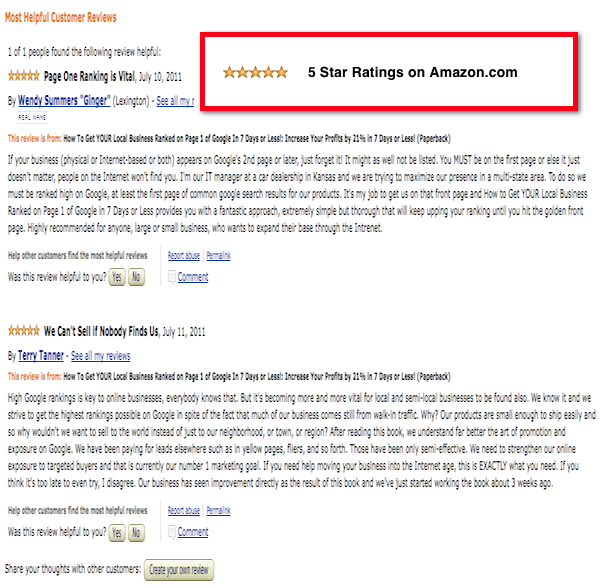 I've been online for over 7 years now… From the beginning I always wanted to work from home… You know… the freedom… the laptop while at the beach… the traveling when I wanted to and still being able to work… Well, then that all changed…
I was sitting at Outback one night, eating my favorite meal… the Alice Springs Chicken… and the guy next to me strikes up a conversation… Sure, it started with golf but like all men… it always comes back to the question… "So, what do you do for a living?"
I explained I was an online marketer and gave a few details… He then shares how his business was struggling because of the down economy… How he was having to let people go and hated it… How this year will be the worst year on the books…
And I started asking questions…
And then I shared some thoughts with him of how to market his business and dominate his industry online…
…Fast forward one hour later: He'd scribbled some ideas down, on both sides of his napkin, and now had a step-by-step plan on how to get more customers to his front door. He was getting up to leave and I was smiling… It felt good to share the things that I've done so long, that it's second nature… and everything was fine until he shook my hand and said…
"Thank you so much. You know its a shame you don't help other businesses in this down economy. You know methods that could help us that we've never heard of. Many of us think the only thing we can do is be in the yellow pages."
Two years later…
and you're now looking at the results of that conversation:
Introducing a proven system guaranteed to get more customers to your front door and slash your advertising cost… sometimes as much as half… with twice the exposure for your small business… IF you think yellow pages could give you coverage locally… wait till you see what could happen if you were on the front page of the major search engines.
"For most local clients… we deliver visible results in 48 hours or less"
How do we get you on the front of the search engines… and in front of your customers?
"Fusion Marketing System"
Our system combines proven strategies with the right formula of online methods which is delivering results… as fast as 48 hours…
Fusion Marketing System
includes:
PR: Press releases to give your company great authority and fast exposure to the world…
SEO: Optimizing your website to rank high in the search engines and be visible to all searching your services…
Video marketing (Youtube is the 2nd largest search engine.. not to be ignored)
Reputation Management: Boosting your exposure on review local sites like… Yelp, Superpages, Kudzu, etc…
Local Listings: Google Places / Bing Places (For some local businesses… ranking in the maps is crucial and the secret formula for massive traffic)
SMS marketing:… Awesome results are being seen from restaurants, beauty salons, pool services, carpet cleaners, etc…(Hint: In a down economy, this can fill your business… with one polished and proven text)
Article marketing:… If your audience reads, then this is the strategy for you… Your customers will quickly see you as the authority in your industry.
Social Media: Facebook marketing… NO reason to ignore 600 billion people watching to hear about your services.
Pay per Click Management: Our company alone spends several thousands a month in Adwords/Bing traffic… Either you know what you are doing when you are spending that much money a month… or you sink quickly…
What's the next step?
Fill out the contact form on the front page and let's set up a time to talk for 10 minutes. Let's see if we fit… Some businesses do not qualify for our services.
Why?
Because if we are already partnering with a local business in your city, in the same industry and helping them dominate the front page, then we will kindly not work with you. We're loyal to our clients and give 110% to their success… That's why they stick with us… no matter what.
This is one thing that makes us stand out from the rest… We take on only ONE business in ONE city of the same trade to rank at the top of the major search engines.
Another thing that separates us is that we don't have cookie-cutting packages…
When we come along beside you, we want to find a solution specifically for you. Honestly, it bothers me when someone comes to help me with their "package"… Once we've figured all this out… Then… and only then… do we come up with a blueprint for you to dominate your city…
Secret Formula with the Fusion Marketing System:
Ranking High in the Search Results… along with the Google Places and combining this with specific targeted traffic from PPC and you will CRUSH your local market…
We help you dominate your market by using a taylor-made campaign designed specifically to your company… to increase your sales… and when it comes down to it… Isn't that where the rubber meets the road?
We take ONE client, per city, per Trade…
So, let it be your local company… and not your competitor's…
Let's face it, if you're in business for yourself online, then your #1 goal is to produce sales… Yes, you want a good product and great customer service… but it starts with the sale…
Local Marketing in Georgia is my expertise…
I can get you in front of your customers and increase your profits…
Within 10 minutes of seeing your site and talking to you about your industry, I'll have a plan of action that will catapult your small business to the next level.
I'm more than willing to catapult you to the top of the listings… I'll handle getting clients to your front door… asking for your service… and you handle the increase in sales…
I look forward to hearing from you…
Take care,